Your first step towards just-in-time production
Multi-component dosing means that individual orders can be economically mixed and filled, even for the smallest batch sizes. Some of our customers in the sealant and adhesive industry offer their customers as smallest batch size a box of 12 cartridges. Due to our multi-component-technology they are still economical successful when doing this.
There is no need to hold operational stock of finished product!
Consistent quality: multi-component dosing ensures consistent and reproducible end-product quality. Mixing effectiveness is not impaired even where the viscosity of the individual components is extremely disparate; the final results is color shades which are consistently stable and reproducible.
This can be explained in the best way when having a look at a silicone cartridge: We guarantee not only a perfect, homogeneous within the cartridge but also within the complete batch and even when reproducing this batch e.g. one year later. According to our experience we are always in a range of color deviation of ΔE < 0,5
Another important advantage is the self cleaning effect of the Multi-Component-System. In comparison with a classical mixer there is no cleaning job and you have no loss of material!
How does it work? Ask us!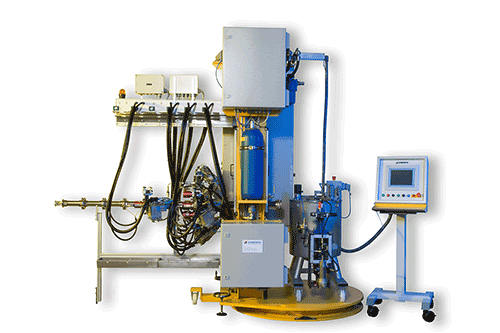 SD-3K Multi-Component Dosing Unit

The SD-3K dosing unit provides a cost-effective entry into multi-component dosing technology. Base material plus color concentrate plus catalyst/cross-linking agent combine to create the final color shade.

Sealants for the automotive industry is catalyzed and weight-filled air-free into drums, cartridges and sausages with a high degree of accuracy.
SD-7K Multi-Component Dosing Unit




5 or 6 final color shades can be produced with the SD-7K dosing unit, depending on whether you add in the catalyst/cross-linking agent or not.



The unit is available with a dosing volume of 670 ml (optional 880 / 1100 ml).

By changing product contacted parts you can even mix more colors. It will be a pleasure to consult you.
SD-XKV Multi-Component Dosing Unit
The latest generation of Multi-Component-Units was designed according to our philosophy to offer modular systems which can be upgraded in output and performance. This means for you a low basic investment and the possibility to upgrade the machine according to your changing needs.

For example you can start with mixing of one color and offer later according to your customer requirements an unlimited number of colors.

An important new detail is the possibility to add now to a basic product up to 12 components.

Due to that there are now completely new possibilities in process technology.

The extreme high "drop precise" dosing precision and the perfect mixing result could also offer you new markets!

SD-KVS Multi-Component Dosing Unit



• System can be equipped for maximum 4 base materials and up to 12 components (catalyst, pigments) -> modular upgrade possible

• Self cleaning through SCHWERDTEL proven static mixer technology -> minimized waste during product change-over

• Filling into cartrigdes or sausages or drums

• Optional with flow meters at injection points for highest dosing accuracies



SD-3KVD Multi-Component Dosing Unit for Printing Inks



The advantage of the system is the injection of drying agent to the printing ink just before the filling into cans. The system offers you an infinitely variable dosing range.

Due to intelligent control system, dosing failures (not enough drying agent) are completely impossible.

The dosing unit SD-3KVD, in its basic execution, is equipped with 2 satellites.